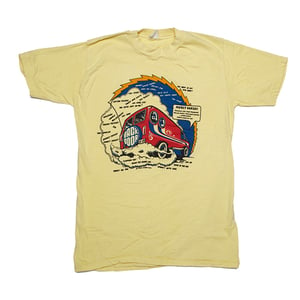 $

39.95 - On Sale
Back Door Vintage Vannin CB Lingo T-Shirt.
The size tag on this one faded away long ago. So check your size to make sure it's gonna fit you. Best guess is that it's an Adult Small and the color is Light Yellow as shown in image.
Measurements are:
Pit to Pit: 17"
Top of Backside collar to bottom = 25"
This shirt is in great shape and looks to have only been worn a couple times. Has all the great CB terms on it. From 10-100 to Bear In The Air, it's as good as an 807 good buddy! Perfect shirt to buy your ladies there fellas.